Ignou BCOMG Books
Ignou BCOMG Guidebooks (for CBCS Syllabus)
Buy Ignou BCOMG Guidebooks for the new cbcs syllabus. we make your exam preparation easy with the help of our reference books. Order your copy online.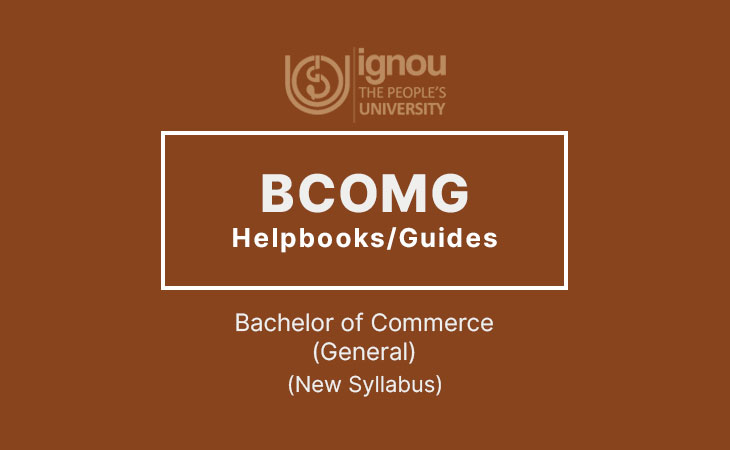 Show Filters
Ignou BCOMG Guide Books based on Current Syllabus
"BCOMG" is program code for Ignou Bachelor of Commerce Degree Course under CBCS Pattern. This category is dedicated to all Ignou BCOMG Guide Books for the students to prepare for their term end exam with ease.
these Ignou BCOMG Help Books will help you understand the exam pattern, provides you with the solved sample papers, and Chapter-wise collection of Important & exam-oriented questions with answers.
How to Place Order for Ignou BCOMG Guide Books Online?
Step 1: Search for the products from the above list & Click the link in the next column
Step 2: Add Product to Cart
Step 3: Fill the details, such as Name, Email, Address & Choose Payment Options.
Step 4: Now Proceed for payment
After Successful placement of orders, our team will process your order and dispatch your Ignou BCOMG Guide Books to your doorsteps.
For any query or concern, please reach us at our WhatsApp helpline- 97116 915146
List of Products Under This Category
Under the syllabus of the new Bachelor of Commerce Program (BCOMG) you will have the following subjects.
Book Code & Subject Title
Price/ Status
Core Courses
BCOC131 Ignou Guide Book English Medium: Financial Accounting
Coming Soon
BCOC131 Ignou Guide Book Hindi Medium:  Vittiya Lekhankan
Coming Soon
BCOC132 Ignou Guide Book English Medium: Business Organization and Management
180
BCOC132 Ignou Guide Book Hindi Medium: Vyapar Sangathan aur Prabandhan
Coming Soon
BCOC133 Ignou Guide Book English Medium: Business Law
Coming Soon
BCOC133 Ignou Guide Book Hindi Medium: Vyapar Kanoon
Coming Soon
BCOC134 Ignou Guide Book English Medium: "Business Mathematics and Statistics"
Coming Soon
BCOC134 Ignou Guide Book Hindi Medium: Vyapar Ganit Evam Sankhyiki
Coming Soon
BCOC135 Ignou Guide Book English Medium: Company Law
Coming Soon
BCOC135 Ignou Guide Book Hindi Medium: "Company Law"
Coming Soon
BCOC136 Ignou Guide Book English Medium: Income Tax Law and Practice
Coming Soon
BCOC136 Ignou Guide Book Hindi Medium: Aaykar Kanoon evam Abhyas
Coming Soon
BCOC137 Ignou Guide Book English Medium: "Corporate"
Coming Soon
BCOC137 Ignou Guide Book Hindi Medium: "Nigam"
Coming Soon
BCOC138 Ignou Guide Book English Medium: "Corporate Accounting"
Coming Soon
BCOC138 Ignou Guide Book Hindi Medium: "Nigamit Lekhankan"
Coming Soon
Discipline-Specific Elective Course
BCOE141 Ignou Guide Book English Medium: " Principles of Marketing"
Coming Soon
BCOE141 Ignou Guide Book Hindi Medium: " Marketing ke Siddhant"
Coming Soon
BCOE143 Ignou Guide Book English Medium: " Fundamentals of Financial Management"
Coming Soon
BCOE143 Ignou Guide Book Hindi Medium: " Vitteey Vipdan ke Mool Tatv"
Coming Soon
BCOE142 Ignou Guide Book English Medium: "Management Accounting"
Coming Soon
BCOE142 Ignou Guide Book Hindi Medium: "Prabandhan Lekhankan"
Coming Soon
BCOE144 Ignou Guide Book English Medium: "Office Management and Secretarial Practice"
Coming Soon
BCOE144 Ignou Guide Book Hindi Medium: "Karyalay Prabandhan evam Sachiveey Abhyaas"
Coming Soon
Skill Enhancement Courses
BCOS183 Ingou Guide Book English Medium: "Computer Application in Business"
Coming Soon
BCOS183 Ingou Guide Book Hindi Medium: "Vyapaar me Computer Anuprayog"
Coming Soon
BCOS184 Ingou Guide Book English Medium: "E-Commerce"
Coming Soon
BCOS184 Ingou Guide Book Hindi Medium: "E-Commerce"
Coming Soon
BCOS185 Ingou Guide Book English Medium: "Entrepreneurship"
Coming Soon
BCOS185 Ingou Guide Book Hindi Medium: "Udyamasheelata"
Coming Soon
BCOS186 Ingou Guide Book English Medium: "Personal Selling and Salesmanship"
Coming Soon
BCOS186 Ingou Guide Book Hindi Medium: "Personal Selling and Salesmanship"
Coming Soon
Generic Elective
BCOG171 Ingou Guide Book English Medium: "Principles of Micro Economics"
Coming Soon
BCOG171 Ingou Guide Book Hindi Medium: "Micro Arthshastra ke Siddhant"
Coming Soon
BCOG172 Ingou Guide Book English Medium: "Indian Economy"
Coming Soon
BCOG172 Ingou Guide Book Hindi Medium: "Bhartiya Arthvyavastha"
Coming Soon