MTTM Solved Assignments (IGNOU)
IGNOU MTTM Solved Assignments 2023 PDF: You can download MTTM Solved Assignments here if you're a student pursuing Master of Tourism and Management degree from IGNOU. The best option for genuine and expertly written MTTM Assignment Solutions is findyourbooks.in.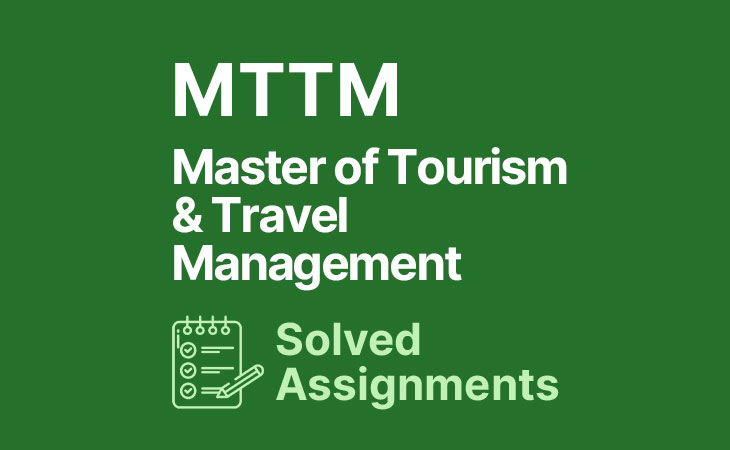 Show Filters
IGNOU MTTM Solved Assignments (Download PDF) 2023: Get the scholarly written assignment solution for MTTM Program. You will get Solved Assignments for Ignou MTTM Course in PDF format which is going to help you score maximum marks.
The assignments for the two-year's Master of Travel and Tourism Management program, or MTTM, will be quite important in raising the percentage of your overall grade. Hence you need quality Assignment Answers for MTTM Course.
The one-stop solution for you to download "Ignou MTTM Solved Assignments in PDF format" is findyourbooks.in.
These MTTM Assignment Answers are Valid for Ignou learners who have taken admission in January or July 2023 batch. And they will appear for Exams in July or December 2023.
List of Subjects under Ignou MTTM Solved Assignments 2023
*These are foundation Course Subjects.
*These are additional Subjects for those who have taken admitted on the basis of a Bachelor's Degree other than Tourism & Hospitality.
FAQ Related to MTTM
Q. What are the Eligibility Criteria for IGNOU MTTM Course?
Ans. Anyone wishing to take admission into Ignou MTTM Course, He/She needs to have a bachelor's degree in Tourism Management, Hospitality Management, or Hotel Management from any recognized university.
"Students who have done BA, BCOM, or any other bachelor's degree can also join the IGNOU MTTM program however they need to study two foundation subjects (TS-1 & TS-2) in the first Semester & Two Additional Subjects (TS-3 & TS-4) in Second Semester as mentioned in above table."
Q. What is the Syllabus of IGNOU MTTM Course?
Ans. IGNOU MTTM Course is divided into 4 Semesters (Two Years), and students are required to Pass 4 subjects in each semester. There is a total of 16 subjects in IGNOU Master of Travel & Tourism Management Program.
Q. Do I need to Submit all IGNOU MTTM Solved Assignments for all Subjects?
Ans. YES! All subject Tutor Marks Assignment work needs to be submitted.
Q. When is the last date to Submit Ignou MTTM Assignment?
Ans.
15-April-2023 : for June-2023 Exam
15-October-2023: for December-2023 Exam
For more queries or clarity on IGNOU MTTM SOLVED ASSIGNMENTS you can call or whatsApp on – 97116 95146