Ignou MA Solved Assignments
The best place to order and download Ignou MA Solved Assignments for 2022-23 Session. Available here for all associated courses under Master of Arts. Please select the relevant MA Assignment categories below-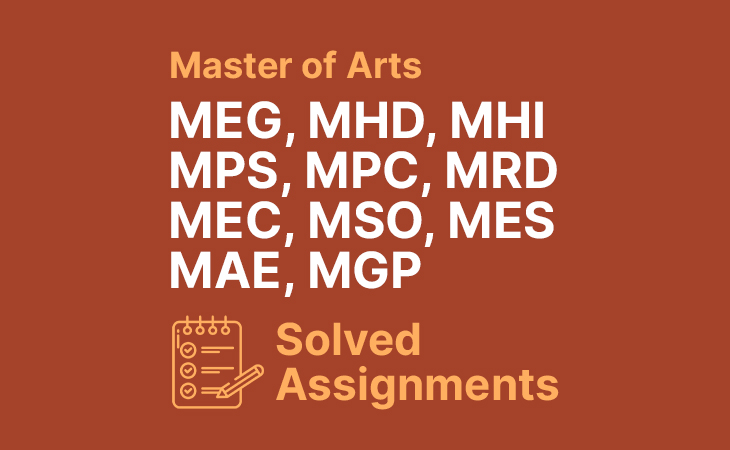 Show Filters
Ignou MA Solved Assignments for MA Honours Students: 2022-23
If you are an Ignou student doing MA Honours courses here we have given Ignou MA Solved Assignments PDF to download. Master of Arts Courses are two years program and all students have to submit Tutor Marks Assignments for all subjects.
Get here a reliable Ignou MA Assignments Solution that will help you score well, 30% marks from Ignou MA Assignments will be added to your final grade cards.
Below are the lists of specializations/Honours under Master of Arts Programs.  All Ignou MA Solved Assignments are in PDF format. Physical delivery is not available.
List of Ignou MA Solved Assignment Categories:
MEG – Ignou MA Solved Assignments for English Honours
Master of Arts in English Course includes the following Subject Codes. Go to the Category page to Download all Ignou MA Assignments for MEG Subjects.
MEG-1, MEG-2, MEG-3, MEG-4, MEG-5, MEG-6, MEG-7, MEG-8, MEG-9, MEG-10, MEG-11, MEG-12, MEG-13, MEG-14, MEG-15, MEG-16, MEG-17, MEG-18, MEG-19
MHD – MA Hindi Solved Assignment
Ignou MA Hindi Course consists of the below given subjects. All MHD Solved Assignments for these subject available in this Category.
MHI – MA History Solved Assignment
Under the Ignou Master of Arts in History (MHI) course, you will get Assignments in English Medium as well as Hindi Medium.
MSO – MA Sociology Solved Assignment
Master of Arts Sociology Category includes the following assignments in Hindi Medium as well as English Medium.
✰ 1st YEAR Subjects
MSO-001, MSO-002, MSO-003, MSO-004
✰ 2nd YEAR Subjects
MSOE-001, MSOE-002, MSOE-003, MSOE-004, MPA-16, MPS-3
MPA – MA Public Admin. Solved Assignment
Public Administration Honours are also available under Ignou MA Solved Assignments. All subject codes under MPA are available in Hindi & English Medium. You will find the following subjects under this category.
MPS – MA Pol. Sci. Solved Assignment
Master of Arts in Political Science honors students can download all the subject assignments as listed in the below table. These are also applicable to the Master of Arts in Gandhi and Peace Studies.
✰ MA Pol. Science 1st YEAR Subjects
MPS–1, MPS–2, MPS–3, MPS-4
✰✰ MA Pol Science 2nd YEAR Subjects
MPSE–1, MPSE–2, MPSE–3, MPSE–4, MPSE–5, MPSE–6, MPSE–7, MPSE–8, MPSE–9, MPSE-11, MPSE – 12, MPSE–13, MED-2, MED-8, MGPE-4, MGPE-7, MGPE-8, MGPE-9, MGPE-10, MGPE-11, MGPE-13
Click to reach Ignou MA Political Science Assignment Category
MEC – MA Economics Solved Assignment
Ignou Master of Arts in Economics Honours students can find all MEC Assignments Solutions under this category. The subject List is below-
✰ MEC- 1st YEAR
MEC-101, MEC-002, MEC-3/103, MEC-004, MEC-105
✰✰ MEC- 2nd YEAR
MEC-6/106, MEC-007, MEC-108, MEC-109/MEC-009, MECE-001, MECE-003, MECE-004
MPC & MPCE – MA Psychology Solved Assignment
Ignou Master of Arts in Psychology students can download MEC Assignments in PDF from this category. Get the subject list under this category from the below table-
✰ M.A. Psychology (1st Year Subjects)
MPC-1, MPC-2, MPC-3, MPC-4, MPC-5, MPC-6
✰✰ M.A. Psychology (2nd Year Subjects)
MECE-11, 12, 13, 14 |  MECE-21, 22, 23, 24  |  MECE-31, 32, 33, 34
MES – MA Education Solved Assignment
Under Ignou Master of Arts in Education, you will find the following subjects to download in PDF.
✰ MA Education 1st Year Subject Code
MES-011, 012, 013, 014, 015, 016
MES-41, 42, 43
MES-101, 102, 103, MES-114
MARD: Ignou MA in Rural Development
Master of Arts in Rural Development Course is a two years master's degree. Assignments for MARD are available in English Medium and Hindi Medium for the following subjects-
How to Get Ignou MA Handwritten Assignments 2022-23
Hand Written Assignments for Ignou MA Program are available on demand. Please share your subject codes on our WhatsApp helpline 97116 95146. This is also a calling number and you may contact us from Monday to Saturday (10:00 to 19:00 hours) for any kind of query or concern.
For other Ignou Master Degree course Assignment, go to Main Category- Ignou Solved Assignments
Contact us:
In case you want more information on Ignou MA Solved Assignment you may contact us at the following-